---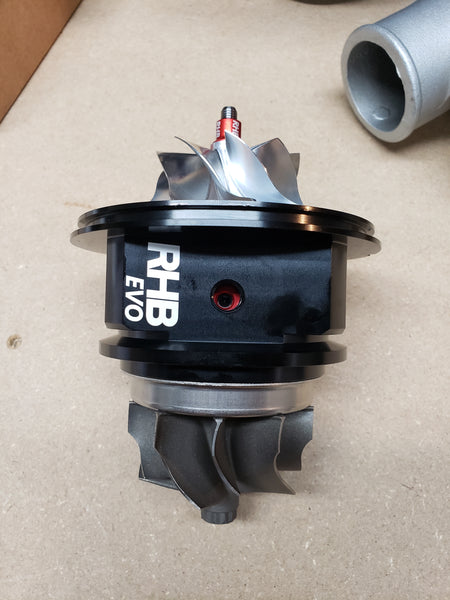 TD05/TD06 Direct Fitment Upgrade Billet CHRA

Upgrade your existing cast iron, journal bearing TD05H, TD06SL2 or TD06H CHRA with RHB EVO CHRA!

Our center section uses a completely clean sheet design, optimized for the lowest possible bearing friction and rotating mass. Our direct replacement CHRAs feature standard TD05/TD06 wheel profiles and housing mating flanges, allowing for a drop in upgrade to the dated journal bearing TD05/TD06 frame!

Oversized Hybrid Ceramic Dual Ball Bearing System with Brass Bearing Cages Unique to RHB
Oil cooled billet 6061 T6 aluminum center section construction
Compressor: 16G, 18G, 20G, 25G - Contact for custom sizes
Turbine: TD05H, TD06SL2, TD06H
Standard & Reverse rotation available
Designed for maximum durability in racing conditions
50% lighter than original cast iron center sections

Durable Shimless Hybrid Ceramic Dual Ball Bearing
Ultra low inertia rotating assembly with billet 6061 compressor nut for fast transient response
Anodized billet 6061 T6 lightweight center section construction
Modern billet 2618 compressor wheel featuring extended exducer tips
Inconel low backpressure turbine wheel
Compact design
Over 0.8kg in weight savings compared to a cast iron CHRA

60 DAY RETURNS

 All sales are final, with the exception of unused product. Upon delivery, a sixty (60) day return period will be activated. Products may be refunded ONLY if a return request is submitted before the expiry of the sixty (60) day return period, and the product has not been used or tampered with. A brief justification of the return is required as a component of the return request.

 Refunds will only be issued once products have physically been returned and have been confirmed to be in an unused condition and not tampered with. Return shipping will be at the expense of the customer.

PRODUCT INFORMATION & LIMITED LIABILITY

By purchasing a turbocharger, you realize that it is a mechanical device that can cause severe injury and bodily harm if misused or installed incorrectly.

As we cannot control what you, the end user does with our product,  RHB Turbochargers cannot be held accountable for:

-Any injury or bodily harm sustained due to mishandling , misuse or unsafe practices

-Any damages to a consumers vehicle or machinery

-Any illegal or malicious activities involving our product(s)

Here at RHB, we have done extensive research and development such that we can produce turbochargers and turbocharging products that are in the top tier of reliability, performance and consistency. It is our philosophy that turbochargers should outlast the vehicle they are installed on, when the turbocharger is used within its recommended operating range in correct conditions. That being said, operating any turbocharger (including ours) outside of its recommended operating range or conditions will create a risk of turbocharger failure or poor performance. To find the optimal operating range and conditions of your turbocharger, please refer to your manual.

Since factors affecting the reliability and performance of turbocharger systems are vast and complex, we do not offer warranty or replacements for failed or poor performing turbocharger units.

Our turbochargers are for off road use only. This means they are intended for racing use only and may be illegal for road use depending on your jurisdiction.

DUE DILLIGENCE

It is the customer's responsibility to read through any articles, manuals or product information to enable them to select the correct product before making a purchase. For best results, it is important that you understand the limits, capabilities, and intended application of the product. All written material for a specific product is included on that product page. If you feel that anything is missing or incomplete, or you require more information, do not hesitate to contact us.